3uTools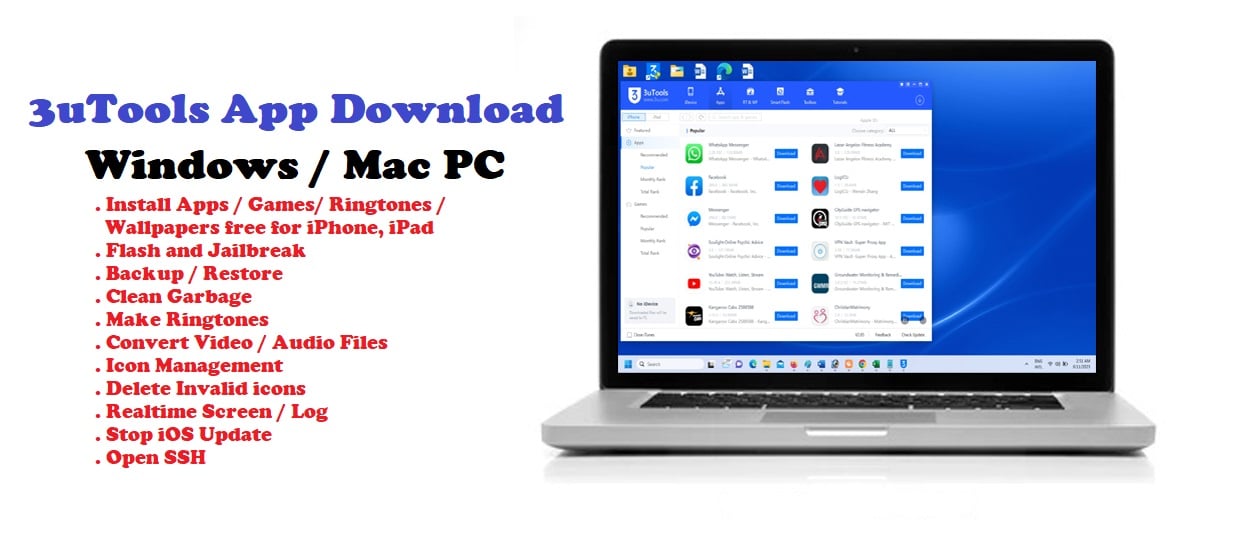 Many third-party tools help users have a better experience with their iPhone, iPad, and iPod touch devices. User dependence on these services is mainly due to iOS's strict restrictions and limitations, which can't be overcome with the assistance of iOS default system apps. While jailbreaking unlock Apple devices' ultimate potential, the process's hidden risks can't be easily disregarded. This is why apps like 3uTools can offer users many benefits without jailbreaking their devices. Here, we learn about 3uTools Windows & 3uToos Mac app latest version. It is one of the best iOS data and file management programs and can be downloaded and installed on your PC for free.
3uTools App Specifications
| | |
| --- | --- |
| App Name | 3uTools |
| Version | 2.65 |
| Updated | January 10, 2023 |
| Category | Utilities |
| Price | Free |
| Platform | Windows / Mac |
| File Size | 115.66 MB |
| Developer | 3UTools |
3uTools Download for Windows and Mac PC
The 3uTools app compatible with Windows 7, 8, 10 & 11 32 bit and 64 bit versions and MacOS PC. Download 3uTools app latest version free for your Windows and Mac PC from here.
Things You Need to Run 3uTools
You may be wondering how 3utools works. For this app to work, you need to have three requirements. It is an iDevice, a PC, a USB cable or a Wi-Fi connection. Make sure your iPhone is connected to a PC before you run 3uTools. We recommend you rely on the USB cable for reference because it is more stable than Wi-Fi. You can get the 3uTools 32/64-bit setup file and run it by following the simple instructions. You can launch the app to experience all its plentiful resources when properly connected. The 3uTools app provides detailed information about your iDevice, including software, hardware, and firmware specifications.
3uTools Key Feature Highlights
Unc0ver, Odyssey, Checkra1, Electra, Chimera, Meridian, and more well-known techniques are included in the All-in-One Jailbreak Suite by 3UTools Jailbreak. For older iOS devices, it also contains the original jailbreak.
Flash Your iDevice — Using various methods, including Easy Flash, iTunes Fl, Pro Flash, and Multiple Flash, you may update, downgrade, and reset your iDevice.
App and Game Store: Download the newest iOS apps and games to your computer, then play them on your iOS device. Regular updates are available in this area.
The best and most recent ringtones and wallpapers may be downloaded here. To locate the ideal matches, utilize filters.
Toolbox – To get the most out of your iDevice, dozens of tweaks and tools are available. The most crucial ones are batch activation, backup/restore, virtual location, Erase All Data, and iTunes Utility.
Firmware Download and Upgrade – You may download the most recent firmware for your iDevice using 3UTools. Utilizing the 3UTools firmware update software to get new updates is secure.
View comprehensive technical details of your iDevice, including software hardware and firmware specifications.
Use the Tutorial area to learn how to use 3UTools successfully and connect with the 3U Tools community through the forum.
3uTools Latest Version Features
Optimized faceID detection feature.
Function of Erasing all content & settings feature optimized.
The Pro Plash Optimized.
Some known issues fixed.
The 3uTools App Delivers iOS Information Beyond Your Expectations
If you are a fan of technical knowledge, you will find the above to your satisfaction. To be precise, it lets you view your iDevices' different statuses, such as activation, jailbreak, battery life, iCloud lock states, etc. Here you can get comprehensive information about your iOS gadget. 3uTools comprises an inbuilt app store with games and apps that can be played on your iPhone without directly installing them on your phone's ROM. You can download such apps and games on your PC and play them via your iDevice. Sounds cool, right? Furthermore, you can access ringtones, music, wallpapers, and other exciting features.
Boost Your Productivity with this Incredible Tool
3uTools enhances the productivity of your interactions with the iPhone or iPad. It is the best intermediary for managing apps, photos, music, ringtones, videos, multimedia files, tutorials, data, and many other iOS-related resources. Its technical sophistication stretches to aspects of jailbreaking and flashing, with separate sections to perform each operation successfully. The software implements automatic detection of your iDevices and matches them to the most suitable jailbreaking methods for iOS 8 through iOS 14. The jailbreak methods include unc0ver, checkra1n, Odyssey, Electra, Chimera, Meridian, doubleH3lix, h3lix, yelu102, Phoenix, Home Depot, Pangu, and Etason JB.
Smart Flash – Your Answer To iOS ROM Modification
Furthermore, 3u Tools also implements a classic device support tool with jailbreak support for early versions of iOS, such as the iPhone3GS and iPhone4 running iOS 4.1–6.1.3, operating exclusively on Windows XP–Windows 7. Do you want to rewrite the iOS ROM or downgrade it to an earlier version? 3uTools Flash has the answer you are looking for. You can rely on the app's smart flash feature, which automatically recognizes your current firmware information and provides recommendations. It will give a list of certificate updates to choose from. Quick Flash, Advanced Flash, iTunes Flash, or a Multiple Flash
Sign ipa Packages with ipa Signature Tool
As if all the above services were not enough, 3utools outstandingly delivers more. You can back up and restore your iDevice settings with a single tap. You can tweak GPS coordinates worldwide, halt iOS upgrades, clear trash, screen mirror your device's display, and more. It also has its IPA signature tool, which signs unique IPA packages. You may use a free or premium Apple Developer Certificate to install IPA files utilizing the IPA Signature on your device. The IPA Signature tool may be configured as the default program to open these files by integrating them with Windows file associations using 3uTools.
Make Use of 40+ Tools on 3uTools At No Cost
3uTools comprises 40+ helpful tools that can breathe new life into your iOS experience. It can update IPCC operator files without having to install a new version of iOS, reset your iOS device to factory settings, transfer data between devices, or shut off iOS update notifications. In addition, 3u Tools has a Deactivate module that allows you to use your smartphone in its inactive state. The Batch Activation feature enables you to activate numerous devices at once (while skipping the settings of region, language, location, Wi-Fi, Apple ID, Apple Pay, and Face ID). The developers release new updates regularly to keep 3u Tools running at its best. This is the ultimate iPhone all-in-one tool you won't regret installing on your PC.
3uTools App FAQs
Is 3uTools safe?
Your personal information is safeguarded by several security measures while using 3uTools. Do the developers give out any of your private information to other parties? They won't divulge your confidential information to anybody else.
What can 3uTools do?
3uTools may be used to do any tasks on iOS devices. A few uses include creating ringtones, converting video formats, cleaning out junk files, backing up and restoring the data on your iOS devices, and much more.
Can I jailbreak my iPhone with 3uTools?
For those who want to jailbreak their iPhones and iPads quickly, 3uTools offers a "Jailbreak" solution.
Are there 3uTools for Android?
No, it's a question that is commonly asked since there isn't a set hardware standard that manufacturers must adhere to. Developing software similar to 3uTools for Android devices is challenging.
Last Reflections
3uTools is a must-have for all iPhone users who value freedom of accessibility and management of their iDevices. This program may not be bulky in terms of its file size, but it houses a comprehensive list of several helpful iOS utilities that you can count on to unlock the full potential of your iDevice. Its services range from simple app installations to complex operations like jailbreaking and flashing, and in that, they implement a variety of methods to achieve the purpose successfully. The app can recognize your device automatically and match recommended updates and features. It also has a toolbox full of essential functions for ultimate productivity.